Tools: Sharypic offers a real-time photowall for events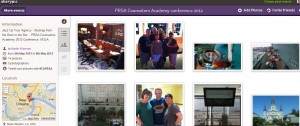 Sharypic, a new site that's still in beta, lets users upload photos from a conference, meeting or concert (anywhere a group of people have gathered) via Twitter or email to give you a real-time photo carousel of the event. It provides a virtual photo album and has good potential for marketing initiatives like engaging brand ambassadors and awareness building.
I first learned about it at the PRSA Digital Impact Conference, when Matthias Lufkens mentioned he used it during the World Economic Forum in Davos.
We tested it at Counselors Academy, annual conference for PR agency owners/leaders (disclosure: I'm this year's conference chair). Here's the view from the CAPRSA photowall.
According to Francois-Joseph Grimault, the site's creator, Sharypic gathers and displays photos in real time enabling participants to share their experiences and providing a visual archive. You can upload via the iPhone app, from Twitter using a pre-set hashtag or from the dedicated email address you get when you set up an event.
The company recently added the ability to customize your profile and new features are coming online every few weeks. In the future you can expect to have the ability to share links from Facebook and social sites. There will also be a premium version.
What do you think of Sharypic's concept? What marketing potential do you see? Do you have any suggestions for additional features on the site?
A version of this article was originally published on myPALETTE.