Client service remains best "PR"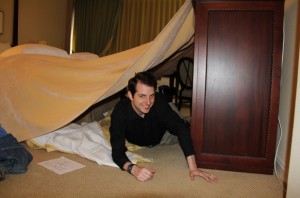 A great article in today's Metro Toronto confirmed what most of us in communications already know! That it's what employees do every day on the front line with your customers that has the maximum effect on a company's reputation and bottom line!
The article discusses what the Fairmont Winnipeg did when a customer requested that hotel staff build him a fort in his room. The resulting photo journal he posted on Imgur had reached 160,000 people by the time the story went to bed!
What the staff of the hotel did was to provide him with instructions on how to build a fort, several extra pillows and blankets, a basket of free goodies and a coupon for two drinks he'd also requested under their "special requirements" booking system.
While I'd be a little nervous that the resulting publicity would encourage every hotel guest booking with the Fairmont to request the unusual (apparently this isn't the only off-the-wall request the hotel has received), the point is that this excellent customer service will I am sure, make many visitors to Winnipeg think Fairmont first!