How do you understand the value of the time and effort put into digital communications? Where are important conversations taking place, and how should you engage in them? What should you be measuring, and what will all the data mean?
These are issues the team at Thornley Fallis have examined and discussed throughout the past year on our blog.  Each week, we highlighted a new survey, report or study to help readers gain the insight they need to make the smart decisions necessary to meet their own goals and objectives.
As 2013 draws to a close, we take a look back at the important new trends, metrics and benchmarks that will inform digital communications strategies into the New Year.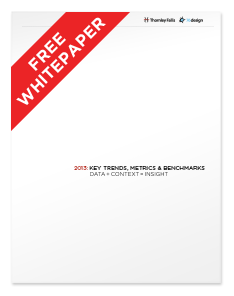 Download your copy now to get the hard numbers behind the eight key trends of 2013:
Powering events through social media
Social media for health
Mobile!
User focus
Marketing integration
Paid vs. earned content
Handheld devices
Canadians rule!
Enter your email below to receive our monthly newsletter and your free copy of the Thornley Fallis white paper: 2013:
Key trends, metrics and benchmarks.