Tool of the week: Get organized with Google Keep
Every New Year, people resolve to get organized once and for all, and for content marketers being organized can make the difference between being 'good enough' and 'top notch'. Google Keep is a nifty little free app that can help lift a content marketing effort to the next level.
It's an easy-to-use note taking tool that syncs with Google Drive, so updates and additions are kept current, in the cloud and ready to access.  The app looks and feels a little like Post It Notes. It uses colour coding and list types to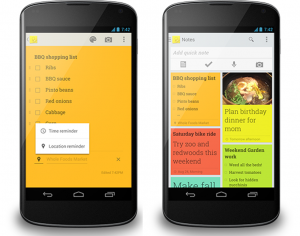 keep information easy to find and use.
A key function is Keep's ability to transcribe voice memos automatically. For content marketers, this means you can speak into your device to quickly capture story ideas as they occur to you; then quickly colour-code them by theme, keyword or channel.
Keep features notes, time and location reminders, to-do lists, photos (new and from the gallery) and voice clips. For bloggers and content marketers, it would make a great one-stop online idea, info and content depot. Being Google, its search function is excellent too.
The location reminder is really useful. Keep works with Google Now (the personal assistant app) to remind a user of his agenda for discussion, just as he walks into a meeting room. Being Google, Keep is available for Android. There is a Chrome extension and a web version too.
The bottom line?  It's free, easy-to-use on mobile phones, tablets or desktops. For content marketers, how could getting organized for 2014 be any simpler?

Great content is what brings communities together online. Thornley Fallis can help.