Ottawa Zoomers Show success
Baby boomers are an important demographic as potential customers who are technology-savvy, use social media and are also still into mainstream media. That's why this weekend's Zoomer Show, Ottawa's first ever, was such a big success.
The show, Canada's largest consumer and lifestyle expo for people 45 and up, took place at the Ernst and Young Centre. Taking part were more than 250 exhibitors across a range of categories including finance, health, travel and lifestyle.
The show was designed to provide brands with multiple opportunities to engage directly with seniors. Attendees were invited to dance and learn tai-chi, and Dan Hill, Canadian singer and writer of 70s hit 'Sometimes When We Touch', gave a free concert at the show.
Zoomers are the youth market of 30 years ago, the post-war population bubble. This encompasses both the Boomers (aged 44-62) and those who are older.  It's a vast group of more than 14.5 million and accounts for 44 per cent of the population; it's said they control more than 70 per cent of Canadian wealth.
According to the Pew Internet & American Life Project, for the first time ever, more than 50% of older people are internet users and an even higher share have mobile phones.
In addition, approximately half of boomers and a quarter of over 65s use social networking sites, mostly Facebook but some use Twitter too.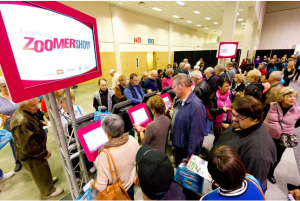 Nine out of ten zoomers use Google or other search engines and almost 70 per cent actually make purchases online.
But, communicating with zoomers can be complex. There is a 20 year age gap between the youngest and oldest boomers; add in the silent generation of 66 to 74 years old and things get even more complicated. There is no one-size-fits-all communications solution, therefore precision audience segmentation is required. Integrating digital, social and traditional media is the key to reaching zoomers.
It's an approach Thornley Fallis successfully used to help promote the new Bruyère Village to Ottawa zoomers. We combined traditional advertising with digital marketing to raise awareness of the Orleans retirement community and drive in rental enquiries. Following our one-week intensive campaign, almost two-thirds of the apartments had been rented.