No focus groups for Ottawa Tomahawks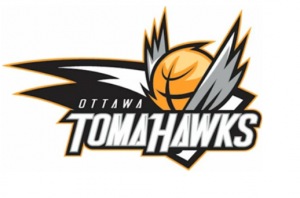 "We didn't want to fall into the trap of having a great name and then focus group it to death to the point where you go, 'Ah, it doesn't work, let's go with something safe.' "
So says Ken Evraire, the Ottawa branding consultant for Bytown Sports, according to an Ottawa Citizen story last week. Evraire must rue the day he thought that properly researching something as important as the name of a new professional sports franchise could be skipped in an attempt to avoid complexity in marketing.
The National Basketball League (NBL) team owners Bytown Sports revealed the new Ottawa franchise's team name, The Tomahawks, at a news conference at Ottawa City Hall last Tuesday. Twitter and Facebook immediately exploded with accusations of racism because of the tomahawk's place in Native American culture.
By Wednesday morning the president of Bytown Sports, Gus Takkale, was on CTV Ottawa announcing the name would be changed and apologizing for any offence. Takkale told the CTV that there was no intended native reference. "It's a tomahawk dunk. It's grabbing the ball behind your head and dunking it. And that excitement is what we want to link our brand to."
Mr Takkale's enthusiasm aside, it's difficult to forgive such a schoolboy error, especially in the fiercely competitive professional sports industry.  Add in all the recent high profile media coverage of news stories involving Native Americans and Native American issues, and it's difficult to see how Bytown Sports failed to  foresee any possible controversy over the chosen name.
Anyone who has ever been involved in focus group research will agree these discussions routinely unearth real gems…sometimes surprising  information about people's reactions, attitudes and behaviors. Unlike other forms of research such as surveys and interviews, focus groups allow for complex answers and in-depth exploration of the reasons for the group's preferences or feelings. These discussions have an informal feel and members are encouraged to speak freely and engage in open dialogue. This promotes the honest and spontaneous answers that are most valuable.
Sports team names are at the very core of any team's personality and the culture of their community of supporters, not to mention their marketing brand. Getting this wrong could be catastrophic for the team and the enterprise itself.
In normal circumstances, several ideas for team names and logos would have been run by a few small groups of selected people in advance of any launch. Groups would represent fans, sponsors, partners and other community influencers. In the case of The Tomahawks the issue of racism would have likely surfaced in a matter of seconds in these group discussions.
So  avoiding the 'trap of having a great name and then focus group it to death' has proven to be a false economy for the team at Bytown Sports and now it's back to the drawing board. Hopefully the franchise's reputational damage has been limited so it can make a second 'fresh' start.
Click here to learn how Thornley Fallis can help your organization gain the necessary insight to make smart decisions.