Communicators use word cloud analysis
According to Wikipedia a word cloud is a visual representation for text data, typically used  to visualize free form text.  This format is useful for quickly perceiving the most prominent terms and for locating a term alphabetically to determine its relative prominence.
Communicators often use word clouds in the analysis of conversations, online and otherwise, to help identify key issues, trends and opinions. Word clouds are a sexy way to visually display what can be highly complex discussion threads.  They display the most frequently used words in larger type while less frequently used terms are smaller. It's so very simple, yet so very useful.
Wordle is one popular free tool to create word clouds. It's very easy to use and creates attractive graphics with numerous variations including colour, font and form (circular v rectangular). However, it has numerous limitations too. You can't change the word list once a cloud has been created.  For example if a respondent repeats the question asked in the answer (as is frequently the case) you can't suppress those words which often gives an inaccurate representation of key words.
In communications, word clouds are best used in conjunction with 'human' analysis.  For example, it takes a human to make the judgement about the overall sentiment of the data.  Are positive words more prominently displayed than negatives ones?  Are passive terms larger than active ones?  Are there more nouns than verbs indicating respondent engagement levels?
Here's a word cloud (by Wordle) of this blogs last three posts: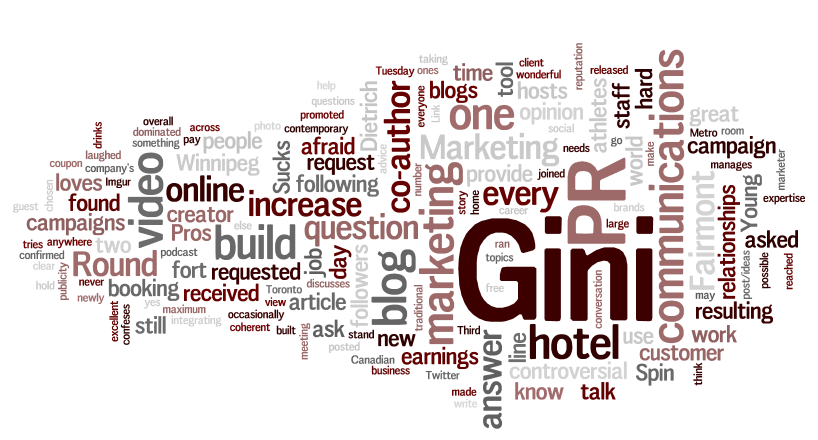 At a glance you can easily tell we blog about communications here.  The dominant term is Gini, which refers to Gini Dietrich, a Thornley Fallis partner who was interviewed in one posting (it would have been nice to be able to suppress this term).  The themes of PR, communications and marketing are dominant. Communications content and channels are also areas of focus; for example: video, blog, and podcast. The tone is neutral with only one strongly positive word (loves) and no negative words featured prominently.  The style is somewhat active; the use of nouns only slightly outnumbers that of verbs.
A variant of this post was first published on
sherrilynnestarkie.com